History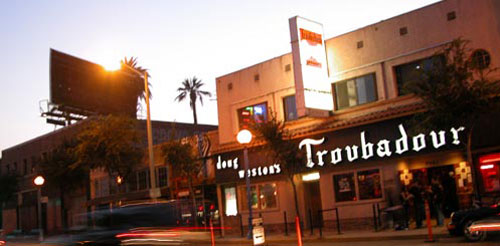 1957
September
Lenny Bruce is arrested on obscenity charges.
1964
After a gig by resident band The Men, Bob Dylan comes onstage for an impromptu "folk-twist" jam session – attended only by Troubadour staff. Shortly afterward, Dylan makes pop music history by switching from folk to folk-rock.
1965
The Byrds, who met at a Monday open mic, perform their classic take on Dylan's "Tambourine Man" for the first time.
October 12-24
Comedian Richard Pryor opens up for Nina Simone.
1966
Buffalo Springfield make their live debut.
1968
June 4
Joni Mitchell makes her Los Angeles debut.
September
Comedian Richard Pryor records his live debut album.
Gordon Lightfoot US debut
1969
Poco, late from a Denver gig, arrive to find unknown comic Steve Martin doing their songs on banjo to a rapturous crowd.
June
Neil Young plays his debut solo show in LA.
July
James Taylor makes his solo debut.
September 3
Tim Buckley records Live at the Troubadour 1969.
1970
Cheech and Chong are discovered by Lou Adler at a Monday Hoot Night.
The Eagles' Don Henley and Glenn Frey meet in the front bar.
Elton John makes his U.S. debut, introduced by Neil Diamond.
Neil Diamond releases Gold, an album recorded live at the Troubadour.
Kris Kristofferson makes his Los Angeles debut opening for Linda Rondstadt.
September 4
After playing the LA Forum, Led Zeppelin appear with Fairport Convention at the Troubadour and play an almost three hour jam session. Set list includes songs like "Hey Joe" and "Mystery Train."
October 3
Janis Joplin parties at the Troubadour and the next day is found dead at the Landmark Hotel from a heroin overdose.
November 24-29
James Taylor plays "You've got a Friend" for the first time. He heard his piano player (as well as opening act) , Carole King, play it during during soundcheck and they decided to give it a try.
1971
Lori Lieberman writes the song "Killing Me Softly with His Song" inspired by a performance by Don McLean at the Troubadour.
Waylon Jennings performs in the cult classic film Cisco Pike.
Tom Waits is discovered by rock manager Herb Cohen during an amateur night.
April 6
Carly Simon, opening for Cat Stevens, meets James Taylor for the first time. They later marry.
1972
Billy Joel makes his LA debut as the opening act for Ballin' Jack
Donny Hathaway records his "Live" LP at the Troubadour
May 16-21
Randy Newman returns to the Troubadour for a six night run to perform his masterpiece album "Sail Away".
1973
Van Morrison records his live record "It's Too Late to Stop Now…"
The Byrds reunite and launch tour with a Troubadour show.
May
Pointer Sisters make their debut performance.
1974
During a set by jazzman Larry Coryell, Brian Wilson jumps on stage wearing a bathrobe and slippers and sings "Be-bop-a-lula"
January 30
Bruce Springsteen & The E Street Band closed the hyped Columbia Records showcase week with a 90 minute set…that starts at 2 in the morning!
March 12
John Lennon and Harry Nilsson are escorted out of the club for heckling the Smothers Brothers.
August 25
Elton John plays benefit show to raise money for UCLA's Jules Stein Eye Institute.
September
On the last night of a triumphant week of Average White Band shows, drummer Robbie McIntosh dies of a drug overdose.
1975
January 17-19
Miles Davis records the album "Live at the Troubadour".
March
Leonard Cohen, performing a five night stand, meets with Phil Spector and Bob Dylan between sets. The next year Leonard and Phil start work on their record "Death of a Ladies Man".
August 25
Elton John returns to play a "5 year anniversary show"
November 6-8
Willie Nelson performs his new album "Red Headed Stranger" for a live radio broadcast.
1976
Charles Bukowski meets his future wife, Linda Lee Beighle, at a reading at the Troubadour.
January 23
Bob Dylan and his Rolling Thunder Revue, en-route to their next gig, pull over and play a short set during a Roger Miller encore.
1978
November
The Knack, who were then unsigned, headline with special guests Bruce Springsteen, Tom Petty, Stephen Stills, and Ray Manzarek.
1979
Rickie Lee Jones releases "Chuck E.'s in Love" – a song written about musician and former Troubadour employee, Chuck E. Weiss.
The Eagles release "Sad Cafe" – a song written about the Troubadour.
1980
Tim Hardin, a long time Troubadour regular, plays his final show.
1982
August 18
Metallica make their Los Angeles headline debut.
1984
Hair-metal band Warrant play their debut show.
1985
June 6
Guns N Roses debut of the classic "Appetite for Destruction" line-up
1986
February 28
Guns N Roses play the show that gets them signed to Geffen.
1991
March 10
Pearl Jam, formerly Mookie Blaylock, perform for the first time under their new name.
1994
November 9
Korn play their first Los Angeles show as the opening act for Corrosion of Conformity.
1995
November 24-26
No Doubt perform record release shows for Tragic Kingdom.
1996
System of a Down perform their first headline show.
May 16
Elvis Costello and longtime collaborator Steve Nieve record "Live at The Troubadour" for a live 4 CD box set.
September 10
Fiona Apple performs her first live U.S. gig.
1997
June 13
Radiohead make their US live debut of OK Computer.
1998
August 20
Shonen Knife make a surprise appearance at a gig by Joey Ramone & the Independents. The band is introduced onstage by Joey as "The Osaka Ramones."
1999
Foo Fighters' Chris Shiflett plays his debut show.
February 14
Troubadour owner and founder, Doug Weston, passes away.
May 22
Johnny Cash does one of his last performances with his wife June Carter Cash.
2001
October 22-26
Joe Strummer plays his final LA shows.
May 16-17
Record release shows for White Stripes' White Blood Cells.
2002
March 7
David Grohl, playing as a drummer, makes his first live appearance with Queens of the Stone Age.
2003
November
Phantom Planet releases "Live at the Troubadour"
2004
March 19
Franz Ferdinand performs their first LA show.
2005
March 11
Coldplay perform a secret show, debuting five songs from their third album, X&Y.
June 18
The Go-Betweens play their final US show before the death of co-founding member Grant McLennan in 2006.
2006
January 6
The Strokes debut material from their new record "First Impressions of Earth"
May 13
Red Hot Chili Peppers record release fan show for their new record "Stadium Arcadium"
May 16-20
Rise Against play five sold out nights previewing their new record "The Sufferer & The Witness".
August 25
The Killers debut tracks from their new album "Sam's Town".
October 14
Lilly Allen makes her US debut.
December 13
Comedians of Comedy featuring Patton Oswalt, Zach Galifinakas, Sarah Silverman, & David Cross film their DVD "Live at the Troubadour".
2007
November 28-30
Troubadour celebrates it's 50th anniversary with a series of shows with James Taylor and Carole King. They recreate their original Troubadour debut together along with their original band (Russ Kunkel, Danny Kortchmar and Lee Sklar).
2008
February 29
Fleet Foxes first LA show.
April 25-29
Tom Petty and fellow Heartbreakers Mike Campbell & Benmont Tench reform their original band Mudcrutch and play their belated LA debut.
May 22-23
Hall and Oates return to The Troubadour, where they made their LA debut 35 years earlier as the opening act for Harry Chapin.
December 13
The Cure perform their first US club show in over 20 years
2009
May 18
NBC awards Troubadour as "Best Venue in LA" by way of their Golden Local debate.
April 17 & 18
It's Always Sunny In Philadelphia cast perform their first live stage show.
2010
February 9
Mumford and Sons perform their debut headlining North American show.
August 17
Brandon Flowers of the Killers makes his LA solo debut of his album 'Flamingo'.
August 20
John Legend and the Roots make their live LA debut of their first collaboration record together entitled, 'Wake Up'.
October 19
The legendary Manu Chao plays his first ever US club show.
2011
LA Weekly votes Troubadour best booked club in Los Angeles.
January 13
Elton John returns to the Troubadour to watch a sold out performance by Plan B.
January 20-22
Dashboard Confessional plays three sold out shows for the 10th anniversary of Swiss Army Romance.
February 12
Dierks Bentley plays a special pre-grammy show with special guests Lady Antebellum, Miranda Lambert, Zac Brown and Blake Shelton, as well as the Black Keys guitarist Dan Auerbach, Paramore's Hayley Williams and 'Country Strong' actor Garrett Hedlund.
February 14
Comedian David Chappelle stops by for a secret Valentine's Day set.
February 18-21
Cake play four sold out nights in celebration of the release of their chart topping album "Showroom of Compassion."
May 10
Tyler, The Creator and Odd Future celebrate the release of "Goblin."
May 11
Prince plays 2 surprise shows in one night a midst his '21 night stand' in LA.
May 23
James Blake makes his Los Angeles debut to a sold out crowd, covering Joni Mitchell's "A Case of You" with Joni herself returning to the Troubadour to be present in the audience.
July 31
Red Hot Chili Peppers play their first LA show with new guitarist Josh Klinghoffer. Debut several new songs, including "Meet Me at the Corner".
August 6
Cypress Hill first show with Muggs in 9 years- Joined by Slash and members of System of a Down.
October 19
Kelly Clarkson performs, previewing her new album "Stronger" to fans and press a week before its release.
November 16
Vince Gill returns to the Troubadour 35 years after being discovered here by Emmylou Harris and Rodney Crowell.
December 7
Lana Del Rey performs to a sold out crowd.
2012
January 25
Alabama Shakes make their Troubadour debut after announcing the upcoming release of their first album "Boys & Girls".
January 30
Ringo Starr is joined on stage by Joe Walsh and Don Was for his record release show of "Ringo 2012".
November 13-15
Gary Clark Jr. plays a 3 night stand for his Blk and Blu album.
December 21
Bob Weir, Jackson Browne and Jeff Lynne join Heartbreaker Mike Campbell and Jonathan Wilson's Holiday Jam session which included the Dead's "West L.A. Fadeaway" and "Truckin."
2013
Rolling Stone magazine names Troubadour the second best rock club in America.
February 9
Emmylou Harris & Rodney Crowell play a special pre-Grammy's show with special guests Joan Baez, Bonnie Raitt, the Zac Brown Band, J.D. Souther, Damien Rice, Joan Osborne, Shannon McNally, John Fullbright and Shawn Camp.
Rod Stewart makes his Troubadour debut performing songs off his new album "Time" as well as classic favorites like "Forever Young" and "Have I Told You Lately" in a ten song set.
April 26
Depeche Mode make their Troubadour debut performing a 10 song set including their song "But Not Tonight" which hadn't been played live since 1986.
May 11-12
Tom Jones makes his Troubadour debut playing two nights to promote his new album "Spirit in the Room." Both Morrissey and Mel Gibson are in attendance for the first of two shows.
July 23
Bastille plays their Los Angeles debut show.
September 3
Nine Inch Nails make their Troubadour debut performing a 21 song set to celebrate the release of their new album "Hesitation Marks."
November 24

Jackson Browne performs as the special guest at Rock School Scholarship Fund's benefit show.
November 25
Florida Georgia Line perform a private, invitation-only show for SiriusXM listeners, which was broadcasted live on "The Highway" channel of the satellite radio service that helped launch their career.
December 2-3

Sam Smith makes his Los Angeles debut with two sold out shows.
2014
Billboard names Troubadour one of the top 5 "must play" venues in the US.
January 24
Robert Glasper Experiment performs with special guests Javier Starks, Algebra Blessett, Wayne Brady, PJ Morton, B. Slade, Keyon Harrold, Malcolm Jamal Warner and Lalah Hathaway.
January 28
Elton John returns to Troubadour to watch a sold out show by The Strypes.
April 13, 14, 15, 17, 18

After having to reschedule his prior shows due to emergency heart surgery, David Crosby plays 5 sold out shows.
May 20
Hozier performs to a sold out crowd following the success of his single "Take Me To Church."
July 14
South Korean phenomenons BTS perform a free, surprise show for fans before launching into international superstardom.
September 23

Slash feat. Myles Kennedy & the Conspirators kicks off their "Live From the Sunset Strip" tour of historic Hollywood venues celebrating the 50th anniversary of Guitar Center.
October 9-12
Alkaline Trio perform four sold out shows, featuring two full albums each night from the band's catalogue.
December 6
Broad City's Ilana Glazer and Abbi Jacobson perform two sold-out live shows in advance of the premiere of the second season of their hit Comedy Central show.
December 13
John Fogerty makes his Troubadour debut at the 3rd annual Merry Minstrel Circus performing classics like "Bad Moon Rising," "Fortunate Son," and "Proud Mary."
2015
LA Times gives Troubadour an A+ rating.
January 29

Sam Hunt plays his first headlining show in Los Angeles
February 20

Imagine Dragons returns to Troubadour on their first stop of their Destination Dragons tour.
March 9

Dwight Yoakam joins Billy Joe Shaver on stage.
March 18
Demi Lovato performs with special guests, including Joe Jonas, with proceeds from ticket sales going to the Lovato Treatment Scholarship, funding mental health treatment for those with financial hardships.
March 24
Leon Bridges makes his Troubadour debut with a sold out show prior to the release of his debut album "Coming Home" in June.
April 2

HAIM plays Sam-Jam, benefiting Our House Grief Support Center, with special guests including Jenny Lewis, Kesha, Laura Marling, and Grizzly Bear. Audience members included Taylor Swift, Calvin Harris, Jaime King and Kyle Newman.
April 14

Brandon Flowers returns to Troubadour in support of his new album "The Desired Effect."
May 19

Ryan Adams joins Natalie Prass on stage.
August 24
Carly Rae Jepsen celebrates the release of her third album "E-MO-TION" with a sold out show.
August 19
Mumford and Sons return for a midnight show and bring specials guests Tom Morello, Mark Hoppus and T Bone Burnett on stage to perform with them.
September 3
Faith No More play a surprise midnight show in support of their new album Sol Invictus.
December 19

Tom Petty surprises the audience at the 4th annual Merry Minstrel Circus by performing a 10 song set. Other performers that night include Jeff Lynne, Jackson Browne and Dawes.
2016
February 13

Bonnie Raitt, Eagles/Frey collaborator Jack Tempchin, Lee Ann Womack, the Civil Wars' John Paul White, Brandi Carlile and Jack Ingram all perform at Americana's Pre-Grammy Salute to Glenn Frey, who passed away January 18.
February 17

Beyonce, Jay-Z and Kelly Rowland attend a show by The Dream.
April 1

Guns N' Roses "classic" lineup reunites for a surprise show marking the first time since 1993 that Axl Rose, Slash and Duff McKagen have performed together on stage.
April 25

Weezer returns to the Troubadour in support of their "White Album."
July 20

Alicia Keys plays an intimate show unveiling tracks from her new album and playing favorites like "Fallin'" and "No One."
October 8

OneRepublic return to the Troubadour in support of their new album "Oh My My."
October 9-10
Bastille return to the Troubadour for two nights in support of their album "Wild World."
October 12-13
Margo Price makes her Troubadour debut with two sold out shows after releasing her breakthrough album "Midwest Farmer's Daughter."
October 27
Portugal.The Man return to the Troubadour with their core band members and play a set to die hard fans, debuting "Noise Pollution" from 2017's album "Woodstock."
October 29
Jimmy Eat World return to the Troubadour as part of a string of intimate LA shows celebrating the release of their ninth studio album "Integrity Blues."
2017
January 20
AFI play a sold out show at the Troubadour on the day of the release of their 10th album "AFI (The Blood Album)," kicking off a month-long tour across the country.
January 29-February 1
Lucinda Williams performs four consecutive sold out shows, playing both fan-favorite classics and brand new songs for the crowd.
February 11
Loretta Lynn saluted by the Americana Music Association for her pioneering role in country music. Guest performers included Brandy Clark, Joe Henry, Fantastic Negrito, ZZ Ward, Jack Ingram, Kesha, Shannon McNally, Robbie Fulks, Lynn's granddaughter Emmy Rose, the two co-producers of Lynn's Grammy nominated 2016 release "Full Circle," as well as John Carter Cash and Lynn's Daughter Patsy Lynn Russell.
March 2
Sheryl Crow plays a surprise show, previewing several songs from her album "Be Myself," released the following month.
March 21
Maggie Rogers makes her LA debut to an enthusiastic sold out crowd at the Troubadour.
April 28-30
New Found Glory play three sold out shows as part of their "20 Years of Pop Punk" tour, playing two albums in full a night and giving fans a choice of which albums they wanted to hear.
May 2
Ozomatli celebrate the release of their new album "Non-Stop Mexico to Jamaica" with a sold out show at the Troubadour and were joined onstage by Banda La Maravillosa and the Mariachi Divas.
May 19
Harry Styles makes his U.S. solo debut at the Troubadour with a surprise show featuring special guest Stevie Nicks, celebrating the release of his self-titled album.
August 12-13
Steve Earle & the Dukes perform two sold out shows in support of the album "So You Wanna Be an Outlaw" released in July.
August 18
Cody Johnson plays his debut Troubadour show in an intimate sold out show to adoring fans.
September 11
Sam Smith returns to the Troubadour, previewing new songs from his sophomore release "The Thrill Of It All" released the following month.
September 18
Help Houston Heal: Artists gather for a fundraising show featuring performances by Robert Glasper, Lupe Fiasco, BJ The Chicago Kid, Estelle, Herbie Hancock, Terrace Martin, Chris Dave, Lalah Hathaway, hosted by Letoya Luckett, Bryan-Michael Cox, and Robert Glasper. Proceeds distributed to Direct Relief and Bread of Life to provide timely relief to those affected by Hurricane Harvey.
September 21
Niall Horan performs a surprise, private show for Spotify superfans in anticipation of the release of his debut solo album "Flicker" after leaving One Direction. Former bandmate Louis Tomlinson showed his support from the crowd.
September 27
Midland celebrated the release of their debut album "On the Rocks" with a sold out performance at the Troubadour.
October 10
Billy Bragg plays a politically charged, sold out show in celebration of the recent release of his book "Roots, Radicals, and Rockers" and upcoming release of his extended play album "Bridges Not Walls."
October 12
Shawn Colvin performs a sold out show honoring the 20th anniversary and re-release of her breakthrough album "A Few Small Repairs," playing the album in full along with a variety of hits and favorites from her repertoire.
October 19, October 29-30
Greta Van Fleet perform four sold out shows, playing through their breakout "Black Smoke Rising" EP, as well as songs from their forthcoming EP "From The Fires."
October 27
Jessie J previews songs from her 2018 release "R.O.S.E." to adoring fans in an intimate show featuring a brief interruption for an on-stage marriage proposal.
November 5
Grace Vanderwaal embarks on her first solo concert tour after winning America's Got Talent in 2016 with a sold out show at the Troubadour, delighting the crowd with both covers and original songs.
November 14
Stone Temple Pilots play their first live show since original singer Scott Weiland died in 2015, bringing in Jeff Gutt as their new vocalist.
December 19
The Brian Setzer Orchestra drum up holiday cheer with a private Christmas show for Sirius XM listeners.
2018
January 17
Marty Stuart and His Fabulous Superlatives bring their unique brand of classic country to an enthusiastic sold out crowd at the Troubadour.
January 25
Michael Nesmith revives his First National Band, performing to a sold out crowd.
February 3-4
Super trio Bermuda Triangle, featuring Brittany Howard of the Alabama Shakes, Becca Mancari and Jesse Lafser, play their Los Angeles debut, wowing the sold out crowd with their rich, soulful sound.
February 7-8
Nathaniel Rateliff & the Night Sweats play two sold out nights the week of releasing the first song off of their forthcoming album "Tearing at the Seams."
March 16
Psychedelic Furs perform songs from their 40-year career to a sold out crowd.
April 11
Noah Cyrus makes her headlining debut at the Troubadour to a crowd packed with adoring fans, with her family cheering her on from the balcony.
April 28
Phoebe Bridgers closes out her U.S. tour with a hometown show at the Troubadour, bringing out guests Conor Oberst and Noah Gunderson. Bridgers captivated the sold out crowd, playing songs from her debut album "Stranger In the Alps," along with a myriad of covers.
May 2
Bad Religion celebrate the 30th anniversary of their album "Suffer" with an intimate show at the Troubadour.
May 5
Leon Bridges returns to the Troubadour after rising to mainstream fame for an intimate show, celebrating the release of his second album "Good Thing."
May 7-9
Ben Harper & Charlie Musselwhite play three shows at the Troubadour in support of their second release as a duo "No Mercy In This Land."
May 22
Logic plays a surprise show for die-hard fans, charging only $3.01 for admission.
May 30
Rivers Cuomo of Weezer performs a solo acoustic show packed with fan favorites from the band's catalogue and a variety of crowd pleasing covers.
June 18-19
King Princess makes her LA headlining debut with two sold out shows celebrating the release of her breakout EP "Make My Bed."
June 27
The Smashing Pumpkins play their first full show with the original lineup since 2000. The surprise show was announced the night before with tickets only for sale at Amoeba for lucky fans. The band brought out Davey Havok during the encore to perform Joy Division's "Transmission."
September 5-6
The Marcus King Band wowed the crowd with two sold out shows celebrating the release of their third studio album "Carolina Confessions."
September 12-14
STRFKR celebrate the 10 year anniversary of their self-titled debut album with three nights of wild sold out shows.
September 28
People Under the Stairs perform to an energetic sold out crowd, bringing their unique brand of Los Angeles independent hip-hop to the Troubadour stage.
October 12-14, October 16-17
Café Tacvba bring their Niu Güeis Tour to the Troubadour for five sold out nights. The iconic Mexican band played favorites from their catalogue, with the crowd enthusiastically singing every word right back at them.
November 7
Jose James celebrates the legendary Bill Withers, who made his debut at the Troubadour, on the year of his 80th birthday after releasing an album of Bill Withers covers, "Lean On Me," in September.
November 8
Tyler Childers makes his Troubadour debut to a sold out crowd on the back of his hugely successful, critically acclaimed release from 2017, "Purgatory."
November 16
Richie Furay celebrates the 50th Anniversary of POCO, playing POCO's classic live album "DeLIVErin'" in its entirety as well as many classics from Buffalo Springfield, Poco, Souther-Hillman-Furay and his solo catalogue.
November 18
Billy F Gibbons of ZZ Top stops at the Troubadour along his Big Bad Blues Tour, playing to a riled up, sold out crowd.
November 30
Armored Saint brought heavy metal to the Troubadour as part of Decibel Metal and Beer Fest for a rare and intimate performance.
December 13
Colter Wall makes his Troubadour debut after the success of his sophomore release, "Songs of the Plains."
2019
January 17
Ryan Hurd makes his headline debut to a sold out crowd after releasing his second EP "To aT" earlier in January.
January 28
Finneas performs a sold out show to a crowd of exuberant fans, playing songs from his solo work and teasing fans with news about his sister Billie Eilish's new music.
February 9
John Prine saluted by the Americana Music Foundation for his pioneering role in country music, featuring performances by Dwight Yoakam, Jody Prine, Bettye LaVette, Margo Price, Bob Weir, Mary Gauthier, the Milk Carton Kids, Ashley McBryde, the Wood Brothers, Anderson East, Cedric Burnside, Maria Muldaur, the Punch Brothers, Iron & Wine, and Boz Scaggs, Joe Henry, John Paul White, Ian Noe, Billy Raffoul, Logan Ledger, Caitlin Cainty, and Willie Watson.
February 19-20
Lukas Nelson & Promise of the Real perform two sold out shows featuring guest appearances by Jimmy Buffet and Lucius.
February 22-24
Billy Bragg returns to the Troubadour for a three night sold out run, playing a career spanning set the first night, songs from his first three albums the second night, and songs from his next three albums the third night.
March 5
Limp Bizkit reunited with their original lineup for the first time since 2012 for a "Three Dollar Show Y'all." Their set featured guest performances by Machine Gun Kelly and Marilyn Manson with Billy Corgan watching from the balcony.
March 15
Donny Hathaway Tribute: A group of incredible musicians including Theo Katzman, Joey Dosik, David Ryan Harris and many more came together to perform the music featured on the album "Donny Hathaway Live," recorded at the Troubadour in 1971.
March 16
Tiffany Young finished her Lips on Lips tour with a hometown show at the Troubadour, just  two days after winning the iHeartRadio Music Award for Best Solo Breakout. The former Girls Generation singer was joined onstage for an appearance by her former bandmate Sooyoung with family and friends looking on from the audience.
March 19
Sara Bareilles joked and laughed with the audience during an intimate performance in which she previewed almost all of her new album, "Amidst the Chaos," which was released in early April.
March 29
Spiritualized share their celestial sounds with a crowd of devoted fans, the first California show of their highly anticipated North American tour.
April 17
Melissa Etheridge performs an intimate show in celebration of the release of her album "The Medicine Show."
May 6
Bruce Hornsby & the Noisemakers play soon after releasing their album, "Absolute Zero," to an enthusiastic crowd including Ted Danson, Mary Steenburgen, and Bonnie Raitt.
May 7
Sammy Hagar & the Circle perform a special show for SiriusXM to celebrate the release of their album "Space Between" the Friday following the show.
May 8
Incubus returns to celebrate the 20th anniversary of "Make Yourself," launching a massive 39-date North American Tour.
August 16-17
Orville Peck's LA Rodeo takes over our stage for two sold out nights. Each show hosted by two fabulous drag queens, Meatball and Pinche.
August 22
The Fixx perform an 18 song set including their hits "One Thing Leads to Another" and "Stand or Fall."
September 9
Richard Marx finally makes his highly anticipated Troubadour debut while excited fans packed the room for his sold out show.
September 18 
Billie Eilish performs an exclusive concert for Pandora and SiriusXM listeners, performing hits from her No. 1 debut album "WHEN WE ALL FALL ASLEEP, WHERE DO WE GO?"
September 29
Sturgill Simpson plays a very intimate benefit show for the Special Forces Foundation which helps veterans adjust back to civilian life. He also promoted his album "Sound & Fury."
September 22
Jessie J puts on the ROSE Challenge, which gives fans the opportunity to write lyrics to an interlude off her upcoming record. She picked three winners who performed their lyrics on our stage.
October 16-17
Tanya Tucker celebrates the release of her first album in 17 years "While I'm Livin" with two sold out shows. Coproduced with Brandi Carlile and Shooter Jennings, the album went on to win two Grammys – best country song and best country album.
October 28
The Growlers return to our stage after eight years for the release of their new album "Natural Affair."
November 4
The night before they were honored at the Billboard Live Music Awards, Hootie and the Blowfish played on our stage for the very first time. Playing hits like "Hold My Hand" and "Let Her Cry," it was surely a night to remember.
November 14
The Black Crowes reunite to announce their upcoming tour, celebrating the 30th anniversary of "Shake Your Money Maker." They played the album in its entirety, performing songs they haven't performed in 30 years.
 2020
January 20
BMG hosts their annual Pre-Grammy party featuring Jessie Reyez, India.Arie, Lewis Capaldi and Lindsay Ell. Billy Ray Cyrus also makes a surprise appearance.
January 25
Americanafest's Pre-Grammy Salute to Willie Nelson takes place celebrating his unforgettable songs. The night included performances by John Prine, Andrew Bird, Rhiannon Giddens, Shooter Jennings, Joe Henry, Amos Lee, Yola, I'm With her, Iron & Wine, Calexico and The War and Treaty, Ida Mae, Madison Cunningham, Sierra Ferrell, and Francesco Turrisi.
March 11
Glass Animals perform the last show before the Coronavirus pandemic caused nationwide concert and music festival cancelations, ultimately resulting in a 13 month long shut down of the club.
October 16-18 
Troubadour participates in Save Our Stages Fest, where The National Independent Venue Association (NIVA) partnered with YouTube for a 3-day virtual music festival to #SaveOurStages. The live streamed performances featured, YG, Marshmello + Demi Lovato, JP Saxe, Phoebe Bridgers, Leon Bridges, and The Foo Fighters.
2021
June 24 – 30 & July 5 – 14
John Mulaney reopens the club with 15 nights of performances spanning from June 24th – 30th & July 5th – 14th.
September 3
LANY has a surprise record release show for their new album "gg bb xx."
October 1
Twenty-One Pilots kick off the Los Angeles leg of their "Take Over Tour" and return to the Troubadour stage.
October 24
Troubadour alumni, Greta Van Fleet, return to perform an intimate show before their two sold out shows at the Greek Theater. Their setlist included hits "Black Smoke Rising", "Highway Tune", and "When the Curtain Falls".
October 28
Marcus King spends an evening a the club performing songs such as "Wildflowers & Wine" and "The Well."
November 23 
NHC, a supergroup comprised of Dave Navarro, Taylor Hawkins and Chris Chaney rock out at the club. The members of the band gushed about each other between songs, explaining how they've been fans of each other for years and enjoy every moment of being in a band together.
2022
January 25
Third Eye Blind celebrates 25 years "in the blind" with an intimate performance.
February 28 
Chris Carrabba, leader of Dashboard Confessional, debuts his newest album, "All the Truth That I Can Tell,"with patrons witnessing the first ever live performance of the album.
April 10 
The Linda Linda's make their sold-out Troubadour debut.
April 22
Gavin Degraw stops by the Troubadour on his Full Circle Tour, an introduction to his then upcoming album "Face The River."
April 29, May 2, & 4-6
Netflix Is a Joke Festival takes over the club with comedic performances from, Becky Robinson, Kevin Smith, Craig Robinson, Ron Funches, Hasan Minhaj, and Ronnie Cheng.
May 11
The Black Keys celebrate their "Dropout Boogie" album release with a sold-out show.
May 18 
The Chainsmokers play an intimate release show for their new album "So Far So Good."
June 3
David Ryan Harris & Scary Goldings play to a sold-out room and surprise the crowd when John Mayer joins them on stage.
June 22
Dwight Yoakam & Chris Hillman perform a private set to help announce "The Western Edge" exhibit at The Country Music Hall of Fame, which highlights the history of LA's influence in country music.
June 27
Jelly Roll takes the stage ahead of his national television debut on Jimmy Kimmel Live!
July 13-14
FINNEAS performs two sold-out shows ahead of his new single "Mona Lisa, Mona Lisa." Fans  received an extra surprise on night two, when he brought out his sister, Billie Eilish, to perform "Hostage" and "Happier Than Ever."
July 31
Hearty Har makes their debut Troubadour performance bringing out surprise guest John Fogerty to end the show.
September 19 
Goat Punishment AKA Weezer performs a secret show for fans and plays their "SZNZ: Autumm" album for the first time before it's released.
September 26-27
Michelle Branch takes the stage for two consecutive sold out nights! Playing both new and nostalgic hits.
October 6-7
Lizzy McAlpine makes her Troubadour debut and brings out special guests, FINNEAS, Jacob Collier, & John Mayer over the course of the two special nights!
October 18 
Ashe returns to the Troubadour for a one night only performance of her sophomore album "Rae."
November 14
Supergroup L.S Dunes, fronted by Circa Survive and Saosin vocalist Anthony Green, with My Chemical Romance guitarist Frank Lero, Coheed and Cambria guitarist Travis Stever, and Thursday bassist Tim Payne and drummer Tucker Rule rock the Troubadour.